Settings with External App
Some special settings are only available from outside iRedTouch HD. These are made within the Settings app, which is installed on every iPad:
Open the app Settings and scroll the left list down until you see the icon of iRedTouch HD: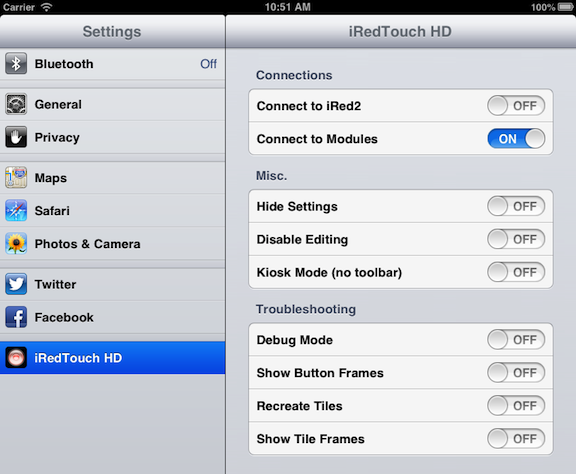 Connections
Connect to iRed2 If iRed2 is not online, you can suppress connecting here - as well as from within the app.

Connect to Modules Under certain circumstances iRedTouch may become unresponsive if the configured module is not available. You can tell iRedTouch not to try to connect to modules at all.
Misc.
These settings are meant for users who should not have access to all functions of the app.

Hide Settings With this option, you can no longer access the settings panel from within the app.

Disable Editing You can disallow editing, sorting and removing of remotes from here.

Kiosk mode (no toolbar) To completely reduce the app to IR control, you can even hide the toolbar. If you hide the remotes list before setting this option, you can even suppress the selection of different remotes.
Troubleshooting
Debug Mode If there are problems with the app that cannot be solved by support, I may ask you to set iRedTouch into Debug Mode. iRedTouch will then log several status messages into a file which you can then send me per mail from within the app. Please remember to turn off debug mode afterwards.

Show Button Frames If you think that the buttons do not react to your taps, you can show frames around the sensitive areas.

Recreate Tiles Due to better performance, the hires images of remotes will be "tiled". Very rarely this tiling may fail and then can be triggered again from this option.

Show Tile Frames For the curious, the frames around the image tiles can be displayed.
---