You have a beautiful new Mac with a built-in Infrared sensor and an Apple Remote control? Front Row is not enough for your needs?

Then try out iRed Lite which pushes IR control to its limits!
Remote control any application by remote keystrokes
Call AppleScripts for finer control
Use your Apple Remote for iTunes, then for iPhoto, then ...
Use multiple Apple Remotes, one for Keynote, another one for VLC, ...
Teach your programmable RC to simulate multiple Apple Remotes
How does it work?
iRed Lite can be activated by holding down the Menu button on your Apple Remote. This window shows you what happens when you now press another button: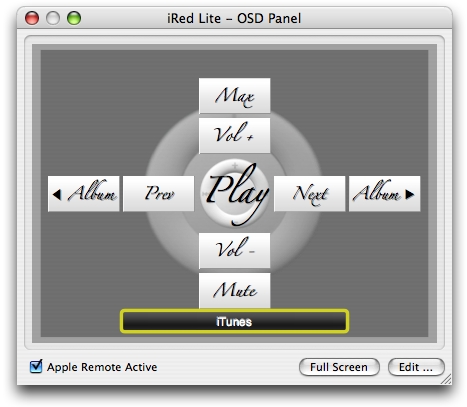 To switch to another layer, QuickTime e.g., simply hold MENU for a second, then navigate through the sections using the right/left buttons on your Apple Remote, then press MENU once again. That simple!
For your convenience iRed Lite may announce the selected section by Mac OS's speech synthesizer.
Downloads
System Requirements
Mac OS X 10.8 (Mountain Lion), or Mac OS X 10.7, 10.6.2 or later
Mac with built-in Infrared Sensor, e.g. Intel Mac mini (Server), previous MacBook(Pro)s, Intel iMacs, unfortunately no MacBook Air, no new MacBook Pro, no Mac Pros (!)
Apple Remote (which is sold separately from Apple), or Universal remote with Apple Remote codes learned
Legacy Version (PowerPC)
iRed Lite 1.0.2 (download: iRedLite-102.dmg.zip)
Mac OS X 10.4.10 up to 10.6.2, Intel or PowerPC architecture
iRed Lite and Front Row?
No problem! You toggle between iRed Lite and Front Row by holding down Menu for a second - at any time.
What is iRed w/o "Lite"?
iRed2 is a very similar software "for all other Macs". You'll need the infrared transceiver module IRTrans (USB or LAN), though this device not only receives IR signals, but can transmit them too!
So you may not only control your Mac by IR but control all your HiFi, Video, or DVD devices from your Mac. Click the iRed logo on the left for details.



Downloads (Documentation, Codes for Pronto Neo, ...)
User Forum (registration neccessary)
---